Would you like some more information or a brochure for something you seen on our website?

Is there a product that you can't find?

Something you didn't see on our website that you think should've been there?

Is there a product that you would like to see us carry, or is there something we should be doing to better serve you?

Or maybe you just have a comment or concern you would like us to know about?

Please feel free to contact us.
For castings - Andy Jorges
For fabrication - Bryan Vlasak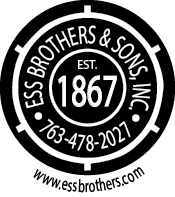 Phone: 763-478-2027
Toll Free: 1-800-478-2027
Fax: 763-478-8868
Ess Brothers and Sons. Inc
9350 CR 19
Loretto, MN 55357


Hours of Operation:
April-November
7a.m.-5p.m.

December-March
7:30a.m.-4:30p.m.